" I keep imagining all the hands that will touch my paintings and how they will create a patina on them and make them even more beautiful."
Blog
My Latest News
My personal news and achievements.
Want to purchase a painting?
Message me below!
Edges & Textures
Have you ever considered what you would miss if you lost your sight?
 As an artist, the idea of not being able to see paintings, and the beauty around me in general, brings me deep sadness. This sadness created a desire inside of me to somehow include the unsighted with viewing my artwork.

But what if the un-sighted might be able to imagine the scale of a tree or a mountain through touch?
It was this question that inspired me to create paintings with textures  that might in some way provide a shape or feeling to things. For many years I pondered the possibilities as I created art and earned a living as an artist.  
I experimented with different ideas along the way. Then, in May 2014, I tried a new technique which finally provided the answer. I was so excited that I finally came up with something that I feel, in some small way will make a difference for those who can't see as we do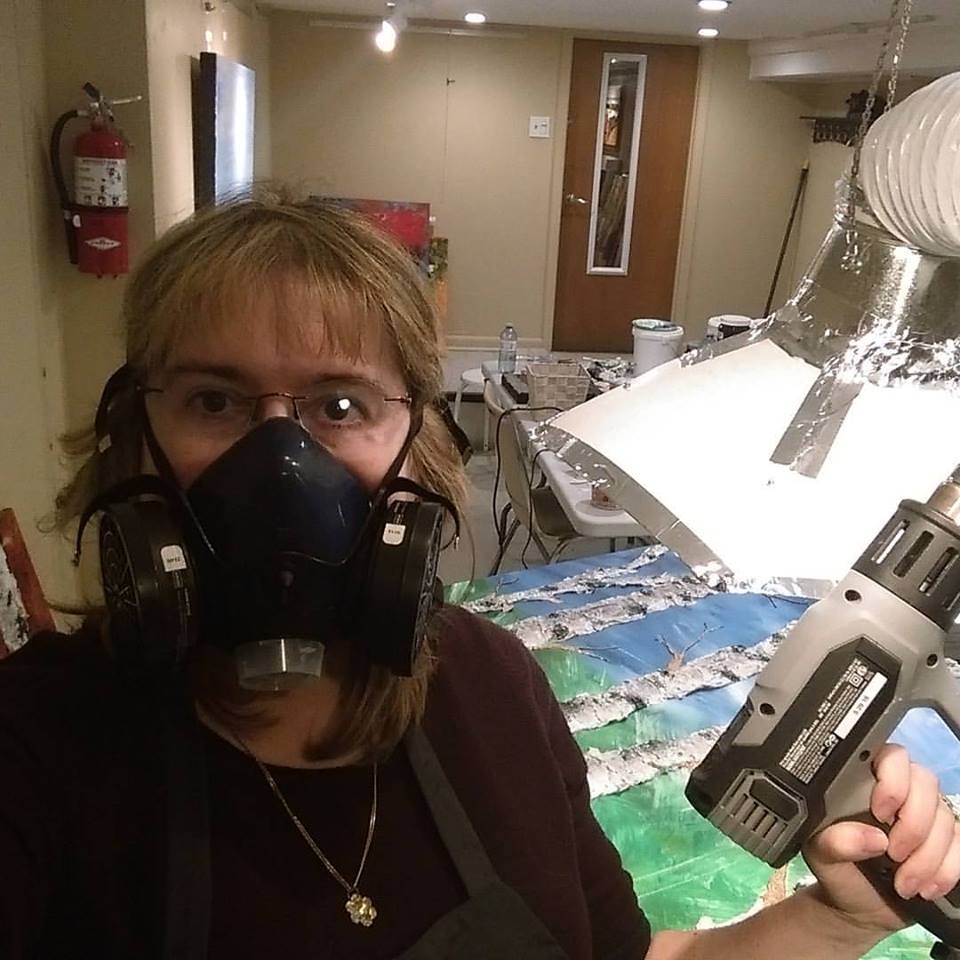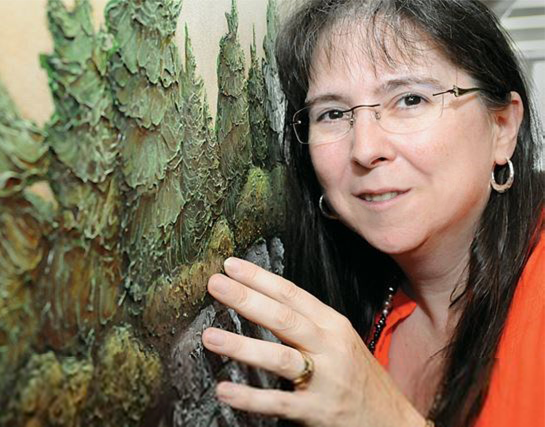 But how to reach out to those who cannot see?
I make a tiny living selling my artwork but I didn't want to sell these paintings to the unsighted, I wanted to gift them somehow. So I went to my local CNIB office in Barrie, Ontario and told them my idea and they had a great plan to hang my paintings in their locations so the unsighted may touch my paintings when ever they visit. My long term plan is to create one painting for each CNIB location across Canada well over 50 locations.  I have already created works in this technique and some now proudly hang where adults and children who have lost their ability to see can experience art through their fingertips.  I know that there are many more people in this country that need this opportunity. Since there are over 50 locations across Canada, I estimate it will take me over 20 years to install a painting in each location at my current pace and yet I am unwavering in my plan to do so.  
Professional  Artist
I have been painting my whole life, and have been expressing myself visually to others for many years. It is how I speak to the world. Over a decade ago inspiration struck and I started to create textures in my paintings for people to touch. My hope is others will enjoy the different textures on their fingertips or to imagine the scale of a tree, a mountain or the perspective in our environment. So I felt the blind might directly benefit from my work and I have shared many of my paintings with patrons of the CNIB. 
About Me
It's been a long road gaining experience and experimenting with acrylic paints. I have created many different textures and developed many techniques and tools to achieve a visual and textural experience for everyone to try. Every time I am in my studio new ideas and textures are born. The look on peoples faces as they try touching one of my paintings gives me such joy and happiness, it is such an honour to be apart of it all.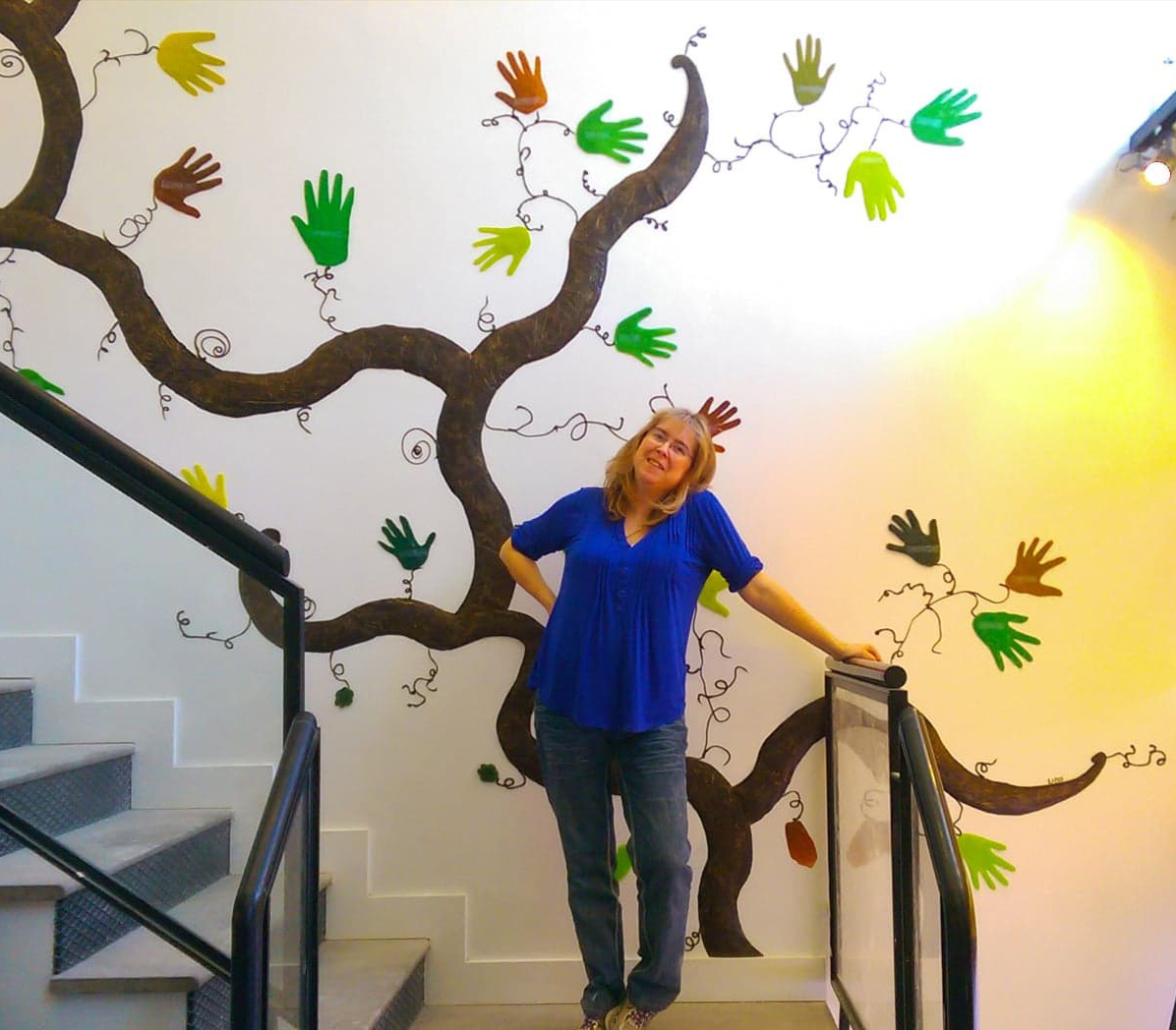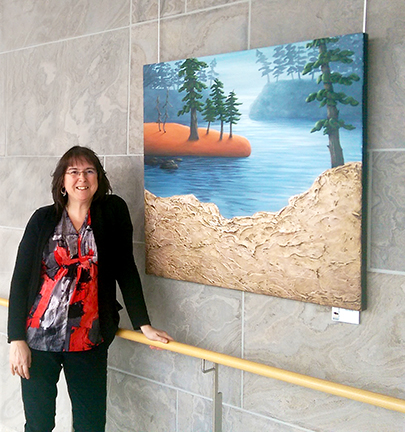 Artist Bio
Kate Ramos studied commercial art at George Brown College. Her professional experience roles include Graphic Design Director, Gallery Assistant and Owner of an art framing and giclee printing facility and also
the Owner of the Edge Gallery. She has been represented by Loft Gallery, Thornbury and at Art Appreciation Gallery, Barrie. Her work is currently being shown at The Barrie Country Club and Art & Home Studio Orillia.
Kate Ramos is part of the Toronto City Hall public collection, The Simcoe County Museum public collection, The CNIB  Barrie, The CNIB social hub Yonge St. Toronto,
The CNIB Sudbury and The CNIB Lake Joseph.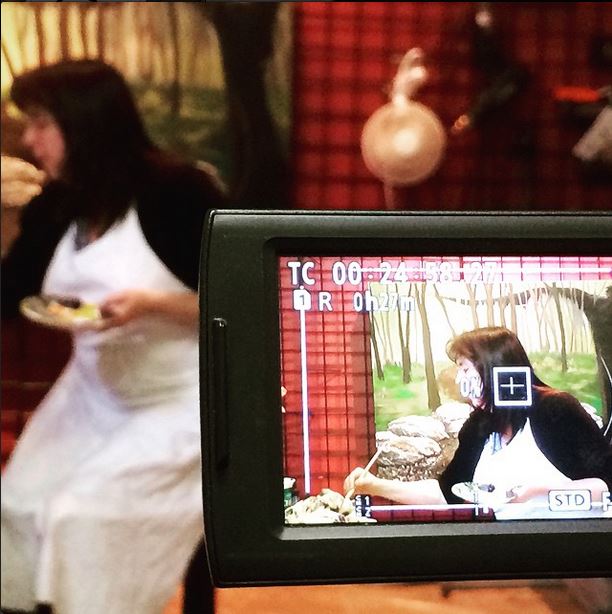 Gallery Owner
2011 to 2018
Owned and operated The Edge Gallery
in Barrie Ontario.
Barrie Spring Art Tour
 2008 to 2019
Website and brochure creation.
Bayside artists
2008 to  2019
Maintaining and the creation of website.
Square Foot Show
 2011 to 2017
Organizing over 200 square foots paintings to show in The Edge Gallery.
Book illustration
2014 to 2015
Illustrated two children's books for Jessi Fournier. "Findlay No!" and "Gloomyville"
lots of art show
 2012 to  2015
Organized an outdoor show alongside
Rythmfest and Promenade in Barrie.
Artwork sold
 1990 to 2019
To date I have sold over 300 of my own paintings.
Gallery Assistant
2008 to 2011
Provided assistance to The Loft Gallery, Thornbury.
Frame shop owner
 2002 to  2012
Owned KatesGallery – Art, Framing, Giclee Printing, Angus.
Mural
2009
Created a 100 foot by 7 foot outdoor mural at The Earth and Sky Connection, Barrie.
Mural
2017
Created an indoor 30 foot by 40 foot mural for the CNIB Social Hub on Yonge st. Toronto.
Graphic Design Director
 2007 to  2019
Graphic Design Director for MWTnetworks
Director BIA
2013 to 2015
Director for the Business Improvement Association in Barrie.
Barrie spring art tour
2011
First place for banner.
Barrie spring art tour
2010
Second place for banner.
Village Blue Mountain
2004
Artist Walk "People's Choice Award"
(Prize- HP 5meg. Camera prize) for "Pride" painting.
.
Barrie Molson Christmas show
2004
1st. place "Best in Show"
for "Regal" painting.
Mill Pond Gallery
2003
"Emerging Artist Show" – 3rd. place
for "Froggy" painting.


VID·E·O
A display of moving visual media.
cnib 3d artist
sight unseen 
This documentary video is featured on Bell Fibe TV.
Dave Sullivan video graphed and produced this video.
Want to ask me something?
Just fill out the form below,
and I will get back to you very soon.